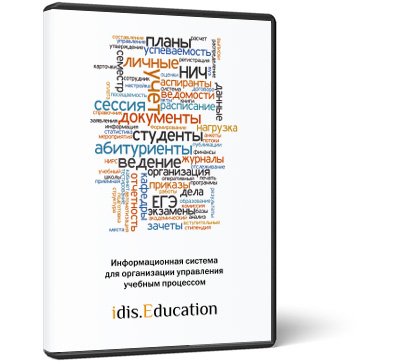 Information system for organization
of teaching process management
Schedule is an operating tool
Have you ever thought that schedule is necessary not only for hanging on the wall? And that it is possible to calculate actual load with its help?
Informational system idis.Education is served for effectiveness increase of educational institution management by means of interconnection and optimization of data flows of all its departments. Try to use this system in action, order an installation because it is absolutely free and download the booklet with the detailed description of information system.
Now to manage Federal University is as easy as music school.
idis.Education, for example, is worked a treat in Kazan innovative university named after V.G.Timiryasov:
7 branch campuses with 1500-6500 students in each one
more than 56000 users
more than 800 users among them are working at the same time
internal IP- telephony
universal library system
web services on Institute website
Institute of Distance Learning
19 campuses
universal convergent net
Try yourself
(Demo-Institute is for 25 000 students in branches)
Choose a profile under which you are going to enter the system:
University entrants
questionnaire filling, contest results
Teachers
on-line schedule, planned and actual load,
mark sheet, teaching material distribution
Students
on-line schedule, progress,
teacher search, correspondence with him
We create the example of your system on our server with the domain of the 3rd level yourname.idissoft.ru — system is ready to work!
We will just replace it on your server at the time you will decide that it suits you.
Send a letter to install@idissoft.ru with the name of educational organization, contact person information (full name, position, phone number).